In order to start the Spring Event speak to Swamp Thing in the Watchtower's Aquacultural Area (as a Hero) or with Poison Ivy in the Hall of Doom's Pit (as Villains). Also don't forget to speak to Veronica Cale (Villains) or Doctor Sarah Charles (Heroes) to find out more about taking on Swamp Thing and starting Sewers Rendezvous daily event istance.


Warrior of Spring Style
Warrior of Spring Set Gallery. At this moment we have screenshots of items from seasonal vendor.

Spring Event Furniture Gallery
New Spring Furniture items can be obtained from Seasonal Vendor and Mobs.
Spring Furniture Gallery
Collection Seeds of Spring
Seeds of Spring collection can be completed while collecting other collections. From time to time, you will receive 2 collection items from yellow question mark, and one of them will be part of this collection. They are also a random drop from the mobs in daily quest.

Spring Event Feats
Fruit Flavored 25 Feat points 25 Feat Points- Buy Boost! Orange Snacks, Boost! Mellow Snacks, Boost! Strawberry Snacks from seasonal vendor.
That's no ordinary rabbit 25 Feat Points- Collect all styles in the Warrior of Spring Set. Some items can be bought from seasonal vendor. The Head and the Back Piece can be obtain from alerts and duos as a drop from the end bosses.
Eco Friendly 25 Feat Points – Complete the spring seasonal daily (Protecting the green guide is below this text) quest 10 times.
Seeds of Success 25 Feat Points – Purchase any of the Spring Seasonal Trinkets.
Tech Savvy – Complete the Sewer Rendezvous instance without loosing any technicians.
Allergic Reaction – Complete the Sewer Rendezvous instance without allowing Swamp Thing or anyone in your group to come in contact with the spore clouds.
Hero's Missions
Protecting the green daily mission
Reward: 25 Cash and 6x Seed Pod.
Quest Giver: Swamp Thing
The mission can be completed anywhere in the Gotham (for Heroes) and it consists of three parts:
Destroy the plant creatures (18)
Once you spot a plant from the air, destroy it. At the same time Spring Pheromone Victims and Death Blossoms will appear.

Rescue civilians captured or threatened by Poison Ivy's Plant Creatures (12)

Fight Spring Pheromone Victims and at the end HOLD E to rescue them.


Locate Poison Ivy's Plants Nearby Columns of Pollen
Villain's Missions
Paint the Town Green daily mission
Quest Reward Cash:25; 6x Seed Pod
Quest giver: Poison Ivy

In order to complete this mission you will needed to do some gardening and to kill Envirotech Biologists for Poison Ivy in Ghotam City.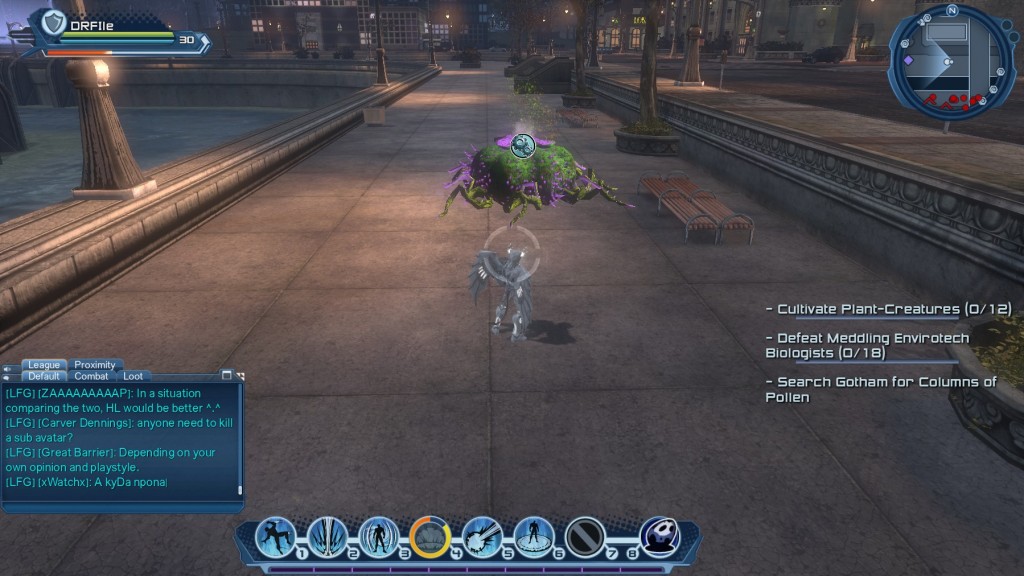 Cultivate Plant-Creatures by delivering and planting seeds or by protectin growing plants x12
Take out Envirotech Biologists interfering with Ivy's plants x18
Plants can be found all over the Ghotam City but we marked some locations where we found it
Sewers Rendezvous daily event instance
Quest giver: Veronica Cale

This is a pretty easy four man instance where your aim is to defeat Swamp Thing.
When you start the mission by talking to the Lead Technician in the instance, first thing you should do is to put poison dispensers around the room where Swamp Thing is located.
In the next step, technician will set timer on one of poison dispensers. After a few seconds the dispenser will start releasing poison, and in that moment you should bring Swamp Thing to it. Poison will weaken him and he will become vulnerable to your attacks for some time. Repeat previous step until you defeat him.

Quest Reward: Seed Pods

The following furniture items can be obtained from Swamp Thing in the Sewer Rendezvous event instance.