Caging Penguin is a new challenge mission, part of March update, which seems to be the hardest solo mission in the game. If you underestimate the bosses you will definitely pay for it! For players who have Tire 2 or Tier 1 armor this instance is little easier, but can be done without raid gear as well. The instance is in Gotham – Burnley, inside Gotham Old Subway. The boss fights are basically mini lessons for new 30s on how to do raid boss fights. They are teaching you to learn to block and do range and worry about phase changes.
Important:
new investigation – Legal Eagle
new briefing – Gang War Episode 4
feat for finding all the bird statues. For the bird statues you DON'T need to do both sides of the instance
there is no vendor inside the instance, so you won't be able to repair your gear.
Rewards:
125 Renown with Wayne Tech.
2 Mark of Allegiance
Leprechaun's Tall Hat, Style Celtic
Advanced Synthweave Pants, Style Split Personality
Walkthrough
At the entrance you have several mobs (3-4 in the group). After killing them all, Two-Face does coin-flip and determines what path you take (which mini boss you will fight). If you get the scratched side of the coin your path will be harder.
Hush – Mini Boss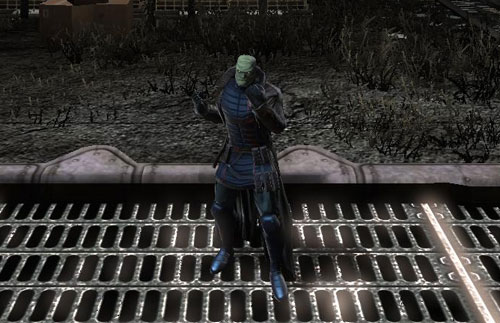 Hush isn't that difficult as long as you use the heal barrels correctly. He has a skill that would drain all your power, but it would come back completely a few seconds later. While your power is empty just run and block.
Hush moves slowly – easy to get out of his range. All you need to do is move around and he will rarely hit you.
Bane – Mini Boss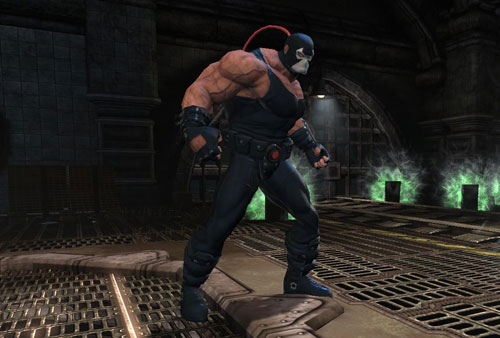 During the Bane fight you will get several messages. Wait for the 40 second message, grab barrel and throw it on the Bane. You have to throw TWO barrels and he'll be stunned for about 5 seconds. When he returns to normal run upstairs and use your ranged attacks on him. Avoid long animation attacks!
Pengbot Maximus – Mini Boss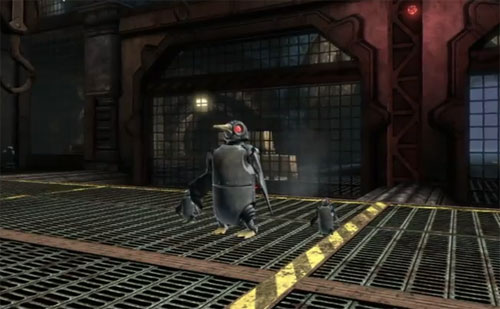 Penguin Maximus is probably the hardest boss in any solo mission. This boss has slowing laser-beams, the spin attack, fire, ice and medic penguins adds. The laser beams consistently drown your health away, even if you do block, it keeps hitting and slowing you. Blocking works for the spinning attack that stuns you and knocks you down continuously.
To beat that Pengbot Maximus kill the little ones when they appear. You actually have to destroy one of them near Pengbot and all adds will explode. The little bots (adds) have a Fire and Ice attacks that does DoT.
When Pengbot does the spin attack he has a large skull appear over his head. Immediately roll (Shift+A or Shift+D) to the left or right. This attack is in a straight line and if he misses you, use back walk and ranged attacks to fight him from a distance. After he drops below half health he no longer does the spin attack. Immediately after spin-attack hit him hard for about 6 seconds. He can be stunned during this time to extend vulnerable period.
There are only three healing barrels in the Pengbot Maximus room, so prepare Cola's in case you use the healing barrels too early.
Penguin – Main Boss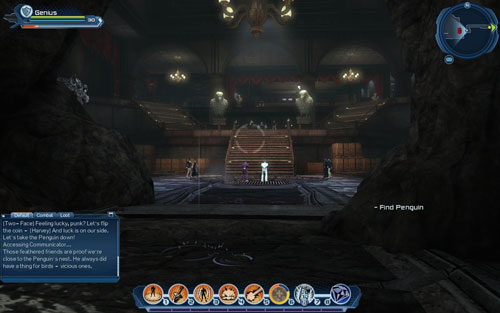 The Penguin fight, itself, is also fairly tough for a solo instance. There are six healing barrels, but you'll probably need all of them. Don't forget that their respown timers are slower than in other solo instances.
To beat Penguin stay at medium range or he will melt your face with his machine gun. If you go too far away Penguin uses grenade launcher. Don't try to block his grenades, just avoid them by jumping or rolling and hit him with ranged attacks. At short range you will be stunned all the time. If you don't have something like Grandeur, Amazonian Deflection, Reflect Pain or other skill to block the damage, use cover when he starts shooting. At medium range, he uses flamethrower that does 44 damage. His flamethrower is easy to avoid.
Basically, you need to use ranged attacks on Penguin. Take advantage of the fact that you're in a big room full of healing barrels fighting one slow guy. Run from the top floor to the bottom, making Penguin chase you up and down the stairs. Find a healing barrel, let him waddle toward you, and then attack him while the healing barrel works. Then run/fly to the other side, smash the healing barrel and hit him with ranged attacks.
Videos
We would like to thank Lascivar from Death & Glory for making this video.