Dear visitor, this guide is outdated. BOLTARON4 is writing a new one at the moment, and we hope to release his new guide soon.



A guide to using an electric healer in the DC Universe online
By BOLTARON4.
Alright, greetings everyone, it is everybody's favorite felonious medic, BOLTARON4, here to share my insights and techniques with regards to using an electricity type healer.
Before getting into this article, I HAVE to say this: This guide is for ELECTRIC HEALERS ONLY. The other types of healing, sorcery and nature will NOT be covered. Some of the BASICS of healing are universal for being a healer, but the actual nuts and bolts of the healz powers are much different in the DC Universe. With that said if you're NOT an electric healer, this article will not be of much use.
Also, this guide will be more useful to players that have already reached level 30 and are participating in the Alerts and Raids. Before you hit lvl 30, the different roles in the game (tank, controller, healer and DPS) are not really pronounced, you are basically all DPS. Once you hit lvl 30, you will need to have a specific role and be able to play it well in order to beat the higher level raid bosses.
THE BASICS
OK, briefly, there are 4 "roles" that you can have in the DC Universe online:
Tank- They should be able to absorb massive damage as well as dish it out. Be the focus point for enemy aggression.
DPS-Damage per second. FAST and FURIOUS baby, these guys dish out the punishment, they also need to stand by to pick up fallen comrades, because in a crazy fight, you can't stop the healing for the whole group just because one person went down. Light on the armor, which is sacrificed for offensive power. MIGHT and PRECISION are the essential stats for this role.
Controller-Think of these guys as a warrior/healer, only for your energy bar instead of your life bar. When you have a good controller on the team, you will NOT run out of juice for your special load out powers (which we will go over soon, I promise). The controller also need to be responsible for the "adds" the will swarm your team when you are fighting a major boss. Thus, they "control" the crowds. DOMINANCE and VITALIZATION are the essential stats for this role
HEALERS-US. The reliable medic on the field. You are responsible for keeping everybody alive. It is NOT your main mission to do the fighting. Oh sure, you will be in the mix, but your main deal is keeping everyone else on the team alive and in fighting shape. You will need to be able to withstand massive damage while keeping your team alive, as well making sure to keep up with everybody. You have a HUGE healing bonus in the scenarios; you sacrifice your ability to deal heavy damage, so stay with the team. RESTORATION is your essential stat.

If you play the game, you know there is A LOT of smack talk about what type of healing is better, and whatever. The fact is, the powers in the game are pretty much equal in terms of strength, and the main difference is in how people USE them. An electric healer in the proper hands is just as effective as a nature healer. As long as they understand their powers, what they do, and how to use them. Poor players make the powers weak, not the powers.

I'm going to go over MY load outs for ELECTRIC HEALZ. This is how you run with the BIG DOGS in the raids and pull your weight. If you are in a Bat-Cave or Fortress of Solitude raid, you need to account for 400,000-600,000 healing points or you're not pulling your weight.

BOLTARON4 load out scheme:
ELECTROBURST: This is a small STOMPING radial burst of electricity that will deal light damage to enemies. It does not waste much energy and does not deal much damage. By itself, it is pretty harmless and not very useful. HOWEVER, in the healer role this power used around ELECTRIFIED enemies, will not only do moderate damage but heal nearby allies, at very little cost. There is also a chance that you will send your target off their feet for a moment with this ability.

ARC LIGHTNING: This is one of my favorite powers. This will send a powerful stream of electricity to your target, which will then "jump" to ANY surrounding enemies OR allies or rocks, barrels, ect. Dealing both damage and healing at the same time. You will see YELLOW streams for damage to enemies and BLUE streams from the electric healz. While this ability will NOT cause the ELECTRIFIED power interactions, you WILL get the bonuses if you manage to stack you next powe. I repeat, WHILE the ARC LIGHTING is active, you WILL get the ELECTRICIFIED power bonuses on your heals. So, basically, they target is ONLY electrified for the duration of the ARC LIGHTING ability. I've dumped this baby into a crown of enemies and allies 15-20 strong, everybody gets touched by the lighting, believe that.

IONIC DRAIN: This is one of the most important tools that I use. The ionic drain will draw a beam of brilliant blue plasma from the target, into me, dealing light damage; this will usually STUN the enemy in place while issuing a steady stream of electric healz to ALL allies in the area. This power healz in "reverse" doing a small amount of healing at first, building up to a much larger dosage as it ends. This ability has a couple of issues that impostors can't overcome. It can be INTERUPTED very easily by rookies with extra moving around and pushing of the buttons. This will cost you the FULL amount of energy for the ability and it is moderately expensive.

BIO-CAPACITOR: This low cost life saver has to be the bread and butter of the operation. You should be casting this ability non-stop while in an instance. This low-key power will INSTANTLY give you and your most hurting ally a quick electric healz. But that's not the good part. This power makes up to 3 allies per cast act like a "BATTERY" for the next two minutes, and if their life bar gets at or below 35% during that time, they will automatically release their stored battery power to survive. You can use this up to 10x before the first one will start wearing off, so this should be always used.

GALVANIZE: Simply, a wave of healing energy that will increase in magnitude and strength with more allies around you. This power will issue a sudden BURST of immediate electric healz, followed by a period of much lower strength healz.

INVIGORATE: This is your #1 go to lifesaving emergency power. It is fairly low cost (only 50% supercharge) and will INSTANTLY juice up you and EVERYONE around you with 100% life bar and 50% energy bar. If your team is not in range, they will not get the HEALZ. This is a SC ability, so rookies should have 2 of these babies on TAP for the more difficult bosses.

BONUS ABILITY-For the HARDCORE. I use this special load out instead of one the above abilities when I am trying for speed feat and for especially difficult bosses. It is expensive, but easily the most powerful TEAM offensive and defensive power in my playbook.

CIRCUIT BREAKER This will create a quick RED flash of radial energy that has multiple effects:
Immediate DAMAGE to Enemies in range
DRAMATICALLY increase damage and critical strike chance for you and ALL allies.
PROTECT against ALL control effects
REGENERATE health for you and all allies in range over time.

If a boss if giving you a problem, or if you want to END THE FIGHT FAST, pop this 100% SP on them and let your homeboys do the rest. You should be able to knock out anything after that.


THAT'S IT. THAT'S ALL OF MY SECRETS THAT YOU WILL GET.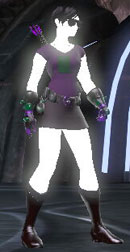 We would like to say a big THANK YOU to BOLTARON4 for writing this guide. We think this will be extremely helpful for all of the DCUO community members and we hope you will enjoy it.