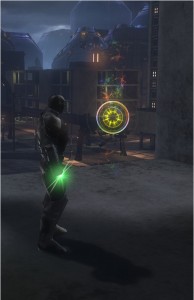 Since the advent of the exobits, many have been wondering what the smeg is going on with them, why are they & what can be done with them. I have thankfully experienced enough (by trial & error & some very well-timed questions to those more knowledgeable than I) that I can now provide something of a Primer for those who have been asking me to help. Unfortunately, the in-game chat window scrolls far too fast for me to follow (especially when the Shouts outnumber the Group posts) sometimes, and I can only type so fast without losing my mind in typos. So, with your indulgence, i have decided to post this "primer" of sorts, to help with those out there who have questions & I cannot answer fast enough due to lag, the floor of people in the chat, and my own dwindling patience.

To those whom have better knowledge than I post here, feel free to annotate & clarify, but be kind & respectful please. This *is* a work in progress. Of course I am speaking from the Tech faction side, so those of Magic & Meta please do post your perspective.

EXOBITS; these are broken/damaged pieces of exobytes that did not activate when Future Luthor detonated them in the earth's atmosphere some time ago (see the intro video). Some landed on the Moon (the Hive moon Base instance), other were spread far & wide across the world. They are represented by a little glowing rainbow-star with a high-toned hum. NOT to be confused with the briefing, Investigation or Collection icons' sound, which is a slightly different sound. (here is a close up shot of an unclaimed exobit.)


It takes 8 exobits to make 1 exobyte. it takes a combination of certain exobits to make certain exobytes.
Exobits come in Agggressive (Red), Support (Yellow), and Fortified (Blue) each. It is RANDOM what you get when claiming the exobit.

EXOBYTES; these are the reassembled exobits you 'craft' through Research & Developement Tables in the Watchtower/Hall of Doom or the Safehouse. The R&D machine looks like a table with a BIG strange looking device on it. You use this table to make exobits into exobytes, or to combine exobits into special exobytes (see below). Reassembled single exobytes are: Aggressive (Red), Support (Yellow), Fortified (Blue), Tenacious (Orange), Durable (Green), and Vengeful (Purple).

BASIC INTERFACE (Alpha, Beta, ect.): This is the 'plug' you use when enhancing your gear with Exobytes. You *MUST* start out with an Alpha level Interface FIRST.

R&D PLAN(S): You get these by buying them at the Vendor where the R&D table is, or in drops after defeating the boss at the end of the mission. When you get them, no matter what the type, EQUIP THEM. This is called "Researching" on how to make a specific type of Exobyte. It will help you in the long run, trust me so DO THAT RESEARCH.

Now, you need Exobits. LOTS of exobits. Look around in Metropolis, Gotham (or Central City, if you're based there). Find & claim them. Each color will stack to a max of 16 per 'pack'. You can divide them up to trade with others by double-clicking on the pack & slecting how many to separate.

BEFORE you craft, look at your Equipment. If you see in the description that it now has a "Blue Socket", "Yellow Socket" or "Red Socket", THAT is they type of Exobyte it needs to grant you the bonus that is listed.

Make sure you have the right plan(s) researched. My advice is to Research ALL the plans you get. If the Plan you get reads "Already Researched" in it's description, trade it to someone who needs it. They may thank you with additional exobits.

Once you have researched all the plans, gotten enough exobits & know which Interface goes where, now you can craft. Look through the list in the R&D window & see what you need to craft to add to the Interface. Once that's done, get out of the window & back to your Equipment. Drag & drop the completed Interface device to that item. This will consume the Interface & activate the bonuses. *shing!* You now upgraded your equipment.


We would like to say a big THANK YOU to HorndOne for making this guide. We think this will be extremely helpful for all of the DCUO community members and we hope you will enjoy it.