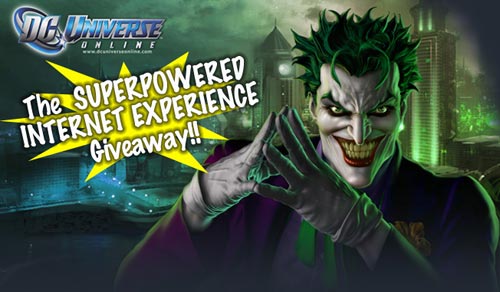 If you still haven't bought a copy of the Collectors Edition of DCUO head to Ten Ton Hammer to enter their Superpowered Internet Experience Giveaway!
Enter to win a free copy of the DCUO collector's edition or one of four digital deluxe editions of the game! Plus, our grand prize winner will receive a Killer™ 2100 Gaming Network Card, so you can handle the intense traffic generated by DCUO's huge persistent spaces and interactive environments!
DC Universe Collector's Edition:
Game install DVD and key,
A statue of the Batman, concepted by reknowned comic book artist/executive creative director for the game, Jim Lee. The statue depicts the Dark Knight leaping from a building, ready to rain justice down on evildoers.
A limited edition Art of DCUO book, which includes 56 pages of the art, information on the making of the game and insight on some of the iconic characters players will encounter.
A limited edition DC Universe Online: Legends Issue #0 comic, written by Tony Bedard (Green Lantern Corps) and illustrated by Oliver Nome, Michael Lopez and Livio Ramondelli with a variant cover by Jim Lee.
Play as the Dark Knight in an exclusive two-on-two (Player-vs.-Player) combat arena.
More information about prizes and conditions can be found here