This players vain attempt to try and make some sense of the crazy adventures of Controllers in DCUO, how they work, how you can be at better controller and how you can keep your team from sending the controller crawling under the desk or screaming into the night. Brought to you by my friends over at The Society "USPC server league" and Iceman2537.

The main roles of a Controller in an Alert or Raid are as followes:
Keep the power bars as full as possible.

I know it not possible to keep all the groups power bars full all the time. Because tank armor has a very low power score and DPS's tend to burn through their power quickly.

Buffs help to strengthen the group and Debuffs weaken the enemies.
An often over looked aspect to the controller role, can make all the different in long boss fights. It has been stated by others "if your controller can't buff and debuff the kick them from the group."
Crowd control hence the name for the role.


In boss fights where the boss summons trash or adds to help. Is partly the controller's job to deal with them. Mostly because most controller powers have side effects that can slow down and disorient the summoned trash.

See allot of people think that Controllers with Power are like Healers with Health, all you have to do as a controller is hit 1-2 powers and the blue bars will just keep up with the team, I only WISH it was that easy, a Controller's powers cannot regen their own power, contrast this with a Healers Spell everybody gets healed…including the healer if they are low enough in Health. Yes Controllers can add buffs that can give power over time but when we hit the button that pumps up the team's blue bars they don't get anything in return.

So part of a good controller's plan is to figure out the best way to generate enough power to distribute to the team at the rate needed. This is where good power management for the rest of the group comes into play. If the group is doing a good job managing their own power levels this frees up power for the controller to use power to put out the buffs and debuffs. A controller in controller stance should NEVER be using his or her power for PURE DPSing while they are in a group, all the powers in a controllers load out when they are in group should be dedicated to the tasks above.

Power management is a skill not one you can select and power of for your character. This is one the player needs to learn. You can only learn this skill through lots of soloing. Good power management, is knowing how fast your powers empty your power verses how fast your weapons fill your power bar.
Thankfully there are ways to do this in game to help out…ALOT.

Now this will not be a 'How to Guide' or a 'Play like this and be unstoppable' this is just one Players experiences and what I've learned from being the Controller and watching Controllers when playing in other roles. We all play differently after all what works for me may not work for you but take what you want from this rambling mess and if it helps, even better.

First off- The Powers:
All the Controller Classes (Light, Gadgets, Mental) have three 'power' powers one that actually gives power to the other members and two that give a buff that gives power over time, look under your blue bar if you see a lightning bolt you have that buff which means the Controller is doing their job.

Light controller load out
Light Claws or boxing = gives power over time BUFF
*Recharge = Gives power to the lowest team mates not counting the controller using it
Group shield = 50%SC protects team in force field
Whip Thrash = Defense DEBUFF
Grasping Hold = Damage output DEBUFF
Entrap = Healing DEBUFF

Gadget controller load out
Sticky boom = gives power over time BUFF
Taser pull = gives power over time BUFF
Gauss Grenade = Defense DEBUFF
Sleep darts = Damage output DEBUFF
*Defibrillation = Gives power to the lowest team mates not counting the controller using it
Bunker buster = 100%SC AoE great for crowd control

Mental controller load out
*Psychic empowerment = Gives power to the lowest team mates not counting the controller using it
Psychic blades = gives power over time BUFF
Though bubble = Damage output DEBUFF
Pyrokinesis = Healing DEBUFF
Bastion = 100%SC protects team in force field
Telekinesis = gives power over time BUFF
Vitalization or Vit- Or the stat you NEED TO STACK

Now in order to get all that lovely power to give to your lovely team mates so they can either keep the baddies off you back or heal your sorry self you need to understand Vitalization, that's the stat that shows how FAST your blue bar recovers, the faster it regens the quicker you can go back to distributing that power to others add this to the buffs above with some moderate DPSing and you should be recovering power MUCH faster than your team mates…which is the point after all.

How to stack your Vit? Look for Controller Gear, all Controller Class gear pumps up your Vit but at a price you'll see a loss in Might and Precision in exchange for vit your DPS won't be as strong even in DPS mode but you'll be able to use your powers more often (thanks to the higher Vit) to compensate for the loss.

So when selecting armor, armor augments, weapons and skills. Do not ignore your dominance stat Dominance is the other stat you need to stack because it makes your controller effects last longer.

Something else to consider controllers are the only role that doesn't have a reduction in DPS while in the Controller Stance, both Tanks and Healers have at least a 20% DPS reduction while in stance. Controllers currently do not have this reduction, despite this advantage they should NOT be pure DPSing as stated above.
DPS and the Controller….yes they need to DPS!

I can hear the screams now there are some out there that think the controller should ONLY give power to the rest of the team. Although they are welcome to their option they are what I like to call wrong. If a controller does nothing but give power they will run out quickly and the rest of the team will run out and then the team is rapidly dead. A controller must be doing some moderate DPSing, more than the healer and maybe the tank, but less than the DPS in order to manage their own power

IMHO…anybody who says a Controller (or Healer) shouldn't be DPSing in an alert or a raid has never played one. I'm serious…I've SEEN it happen, seen a poor troller chewed out by a group leader for doing anything other than hitting the power regen…I don't think I need to tell you how THAT ended. (Hint…NOT WELL) However the DPSing the Controller should be doing…should be weapons or Melee, they should NOT be DPSing with powers!

Most of powers in a Controller Load out for a Hard Alert or Raid should be focused on power and buff/de-buff NOT DPS, most of the DPS a controller does should be from their melee weapons and one (maybe two if you can squeek it) DPS power to reserve for the OHGODOHGODI'MGONNADIE moments.
Let me give you an example, my FAV mental power Pyrokinesis, it's great it's got range, it has stun, it does damage over time, it's a mental powered flaming sniper shot!

And it's utterly USELESS in a Hard Alert or Raid if I'm in Controller Role.
Why? Well yeah it does a good bit of damage, but that's ALL it does, it has no other benefits if I'm in controller stance with a group, yes I stunned an enemy for a second or two but when you are up to your neck in undead zombies just stunning one aint gonna cut it. Better to have a group stun/debuff or a shed aggro that'll help the tank keep the aggro and allow your team mow them down without (much) injury.

So how to make the most of your limited DPS choices? Choose your weapon wisely…
Check them out some give Vit bonuses just for buying that skill, and get as many as you can the ones that give a Vit Bonus from the start are:
Bow- Personally never used it, but some Trollers SWEAR by it.
Dual Pistols- My Default weapon for Alerts and Raids.
Dual Wield- Great for Solo and Duo…not so hot for Alerts/Raid due to range.
Rifle- Still playing with this one myself, the grenade launcher is fun…
Staff- Again never really used it but might have the same range flaws as Dual Wield
Rack up the skill points and fill up enough Weapon trees and you can really stack it up, I'm not going to say which weapon is the best or the combos you need to get. I WILL say to open up the weapon trees and start looking, next time in a raid or alert and a Controller Weapon drops…even if it's not one you can use currently roll for it anyway if you can…try to assign some points, or fork out for a respec to get it and give it a go.

I will say among controllers rifles and dual pistols seem really common in alerts and raids, Controllers can't be on the front lines so they need range and speed (to keep the DPS and thusly their power up) which both Rifle and Dual Pistols have in SPADES.
The trick to picking a weapon for a controller is you want to do damage QUICKLY from a distance. That's why Dual Pistols are a good choice few weapons fill your power bar faster than Dual Pistols on full auto.

Closing up…
So what does all this boil down to?
For Controllers:
Make the most of your load out, you only got 6 slots pick well if in a raid see if you can chat with the other Controller (most should have two per raid) find out what he/she has got and do a quick rearrange if necessary. ALWAYS have your three 'power' powers in there.
Snatch up every piece of Controller Gear you can get, the more Vit the better!
Practice and play with weapons and melee combos till you find a sequence that gives you the most DPS you can get.
For Non-Controllers:
Talk to your Controller beforehand! Just because they are green and have non-controller gear doesn't make them 'bad' for all you know you're looking at an Alt of a Level 30 with T3 gear whose grinding up a second char. So they may know how it works them just lack the gear for now. If they are a rookie controller make your decision if you want to play teacher (and adapt accordingly) or let them know that they should try working on lower level stuff till they get the role down.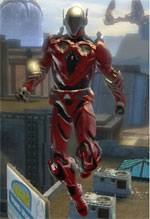 We would like to say a big THANK YOU to Iceman2537 and his friends over at The Society "USPC server league" for making this guide. We think this will be extremely helpful for all of the DCUO community members and we hope you will enjoy it.